Nothing lasts forever but good memories are best preserved.
News9naija brings to you the actors who made our childhood worthwhile through series of action packed movies.
Sean Connery
Clint Eastwood
Bolo Yeung
Antonio Banderas
Danny Trejo
Bruce Willis
Samuel Jackson
Chuck Norris
Jean Claude Van Damme
Jason Statham
Chow Yun-Fat
Syvester Stallone
Arnold Schwarzenegger
Cary-Hiroyuki Tagawa
Jet Like
Jackie Chan
Dolph Ludgren
Donnie Yen
Dwayne Johnson
Mark Decascos
Sean Connery
Connery was the first actor to portray the character James Bond in film, starring in seven Bond films (every film from Dr. No to You Only Live Twice, plus Diamonds Are Forever and Never Say Never Again), between 1962 and 1983.
In 1988, Connery won the Academy Award for Best Supporting Actor for his role in The Untouchables. His films also include Marnie (1964), Murder on the Orient Express (1974), The Man Who Would Be King (1975), The Name of the Rose (1986), Highlander (1986), Indiana Jones and the Last Crusade (1989), The Hunt for Red October (1990), Dragonheart (1996), The Rock (1996), and Finding Forrester (2000).
He has has won an Academy Award, two BAFTA Awards, one being a BAFTA Academy Fellowship Award, and three Golden Globes, including the Cecil B. DeMille Award and a Henrietta Award.
Clint Eastwood
Clinton Eastwood Jr. is an American actor, filmmaker, musician, and politician.
After achieving success in the Western TV series Rawhide, he rose to international fame with his role as the Man with No Name in Italian filmmaker Sergio Leone's Dollars Trilogy of spaghetti Westernsduring the 1960s and as antihero cop Harry Callahan in the five Dirty Harryfilms throughout the 1970s and 1980s. These roles, among others, have made Eastwood an enduring cultural icon of masculinity.
Bolo Yeung
Actor Bolo Yeung was a martial arts student of the legendary Bruce Lee. Yeung appeared as a heavy in the classic Enter the Dragon (1973) and has portrayed many similar characters since, including a performance in Bloodsport (1987), the Jean-Claude Van Damme film that revitalized martial arts films in the U.S. In his youth, Yeung was a competitive bodybuilding champion in Hong Kong; with his unique massive appearance, Yeung makes an especially imposing villain.
Antonio Banderas
Antonio Banderas is a Spanish actor, director and singer. From 1982 to 1990, he acted primarily in films directed by Pedro Almodóvar. Banderas' success as an actor in America came with his role in Philadelphia (1993), and parts in other major U.S. releases were quick to follow. Banderas has appeared in such films as Interview with the Vampire (1994), Desperado (1995), The Mask of Zorro (1998) and the Spy Kids trilogy. He performed the voice of Puss in Boots in the Shrek film series, and in the 2011 spin-off film, Puss in Boots. Banderas has also made appearances on Broadway and has directed several films.
Danny Trejo
Trejo born May 16, 1944) is an American actor and voice actor who has appeared in numerous Hollywood films. His films include Heat (1995), Con Air (1997), and Desperado (1995), the last with frequent collaborator Robert Rodriguez. Trejo is perhaps most recognized as the character Machete , originally developed by Rodriguez for the Spy Kids series of movies and later expanded into Trejo's own series of films aimed at a more adult audience. He has appeared in TV shows such as
Breaking Bad , Brooklyn Nine Nine , The X-Files , King of the Hill,
The Flash, and Sons of Anarchy. He has also appeared in several Slayer music videos.
Bruce Willis
Walter Bruce Willis is an American producer, and singer.
His career began on the
Off-Broadway stage in the 1970s. He later achieved fame with his leading role on the hit television series Moonlighting (1985–89). He has since appeared in over 70 films and is widely regarded as an "action hero", due to his portrayal of John McClane in the Die Hard franchise (1988–2013), and other such roles
Samuel Jackson
Samuel Leroy Jackson is an American actor and film producer.
He came to prominence in the early 1990s with films such as
Goodfellas (1990), Jungle Fever (1991), Patriot Games (1992),
Amos & Andrew (1993), True Romance (1993), Jurassic Park (1993) and his collaborations with director Quentin Tarantino including Pulp Fiction (1994), Jackie Brown (1997), Django Unchained (2012), and The Hateful Eight (2015). He is a highly prolific actor, having appeared in over 150 films, including Die Hard with a Vengeance (1995), A Time to Kill (1996), The Long Kiss Goodnight (1996), The Negotiator (1998), Deep Blue Sea (1999), Unbreakable (2000), Shaft (2000) and its sequel, XXX (2002), Snakes on a Plane (2006),
Kong: Skull Island (2017) and the Star Wars prequel trilogy (1999–2005).
Chuck Norris
Carlos Ray "Chuck" Norris is an American martial artist, actor, film producer and screenwriter. After serving in the United States Air Force, he won many martial arts championships and later founded his own school of fighting named Chun Kuk Do .
Norris is a black belt in Tang Soo Do , Brazilian jiu jitsu and Judo. Shortly after Norris training major celebrities in martial arts in Hollywood . Norris went to appear in a minor role in the spy film The Wrecking Crew (1969). Friend and fellow actor Bruce Lee invited him to play one of the main villains in Way of the Dragon (1972) . While Norris continued acting, friend and student Steve McQueen who suggested him to take it seriously. Norris took the starring role in the action film Breaker! Breaker! (1977) which turned a profit. By his second lead Good Guys Wear Black (1978), Norris was known to be a popular action film star.
Jean Claude Van Damme
Jean-Claude Camille François van Varenberg , professionally known as Jean-Claude van Damme and as JCVD , is a Belgian actor and retired martial artist best known for his martial arts action films. His most popular projects include Bloodsport (1988), Cyborg (1989),
Kickboxer (1989), Lionheart (1990), Death Warrant (1990),
Double Impact (1991), Universal Soldier (1992), Nowhere to Run (1993), Hard Target (1993), Timecop (1994), Street Fighter (1994), Sudden Death (1995), Maximum Risk (1996),
JCVD (2008), Jean-Claude van Johnson (2016 – 2017 series) and Lukas (2018).
Jason Statham
Jason Statham is an English actor and film producer. Typecast as the antihero, he is known for his action-thriller roles and portraying tough, irredeemable, and machiavellian characters. Throughout his film career, Statham has regularly performed his own stage combat and stunts.
Born in Derbyshire, England, he began practicing kung fu, kickboxing and karate recreationally in his youth while working at local market stalls. An avid footballer and diver, he was selected by Britain's national diving team to compete in the 1990 Commonwealth Games. Shortly after, he was asked to model for French Connection, Tommy Hilfiger, and Levi's in various advertising campaigns. Statham's past professional history working in market stalls inspired his casting in the Guy Ritchie crime films Lock, Stock and Two Smoking Barrels (1998) and Snatch (2000).
Since then he has featured in the several movies including, Lock, Stock and Two Smoking Barrels, Bacon, Snatch, Turkish, Ghost of Mars, The Transporter 1 $ 2, etc.
Chow Yun-Fat
Chow Yun-fat previously known as Donald Chow, is a Hong Kong actor known in Asia for his collaborations with filmmaker John Woo in the action heroic bloodshed-genre films A Better Tomorrow, The Killer, and Hard Boiled, and in the West for his roles as Li Mu-bai in Crouching Tiger, Hidden Dragon and Sao Feng in Pirates of the Caribbean: At World's End. He mainly plays in dramatic films and has won three Hong Kong Film Awards for Best Actor and two Golden Horse Awards for Best Actor in Taiwan.
Syvester Stallone
Sylvester Enzio Stallone born Michael Sylvester Gardenzio. Stallone is an American actor, director, screenwriter, and producer.
He gained worldwide fame with his starring role in the smash hit Rocky. Following the success of Rocky, Stallone made his directorial debut and starred in the 1978 film Paradise Alley, a family drama in which he played one of three brothers who enter the world of wrestling. That same year, he starred in Norman Jewison's F.I.S.T., a social drama in which he plays a warehouse worker, very loosely modelled on James Hoffa, who becomes involved in the labor union leadership.
In 1979 he wrote, directed and starred in the sequel to his 1976 hit, Rocky II (replacing John G. Avildsen, who won an Academy Award for directing the first film), which also became a major success, grossing US$200 million. In 1981, he starred alongside Michael Caine and soccer star Pelé in Escape to Victory, a sports drama in which he plays a prisoner of war involved in a Nazi propaganda soccer game. That same year, he starred in the thriller Nighthawks, in which he plays a New York city cop who plays a cat-and-mouse game with a foreign terrorist, played by Rutger Hauer.
Arnold Schwarzenegger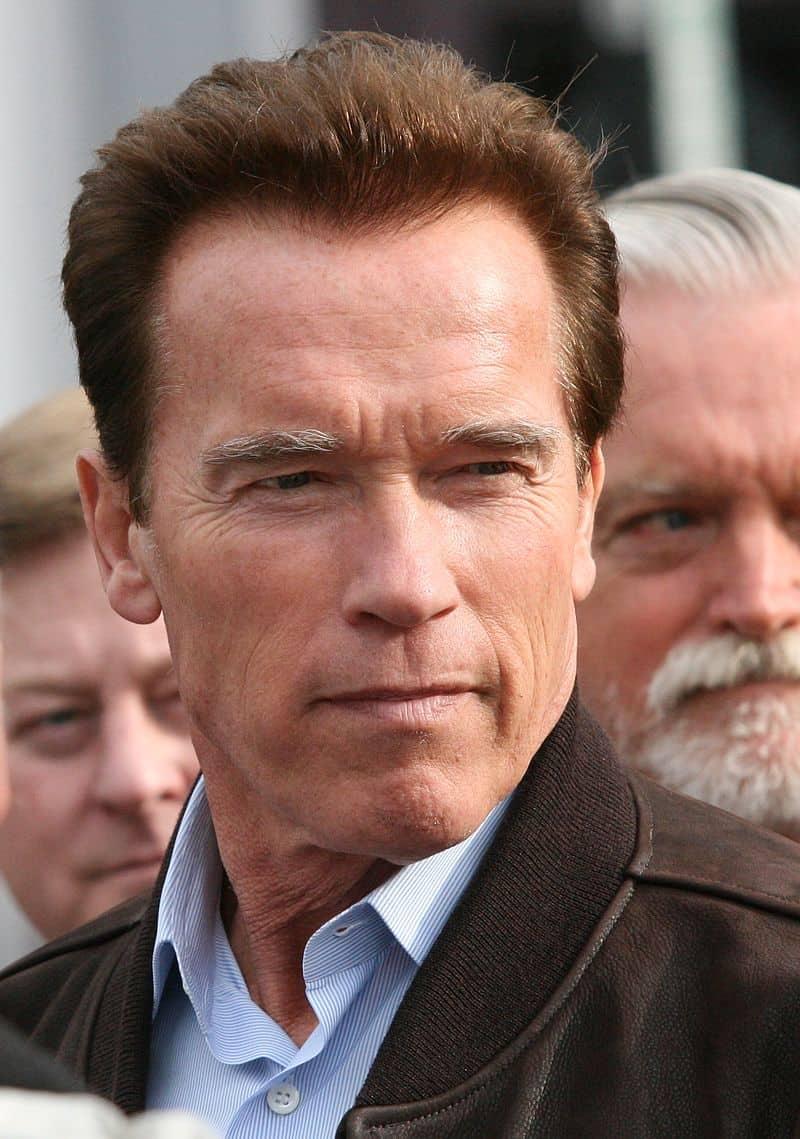 Arnold Alois Schwarzenegger is an Austrian-American politician, actor, filmmaker, businessman, author, and former professional bodybuilder. He served as the 38th Governor of California from 2003 to 2011.
Schwarzenegger gained worldwide fame as a Hollywood action film icon. His breakthrough film was the sword-and-sorcery epic Conan the Barbarian in 1982, a box-office hit that resulted in a sequel. In 1984, he appeared in the title role of James Cameron's critically and commercially successful science-fiction thriller film The Terminator. He subsequently played a similar Terminator character in most of the franchise's later installments, Terminator 2: Judgment Day (1991), Terminator 3: Rise of the Machines (2003), Terminator Genisys (2015) and Terminator: Dark Fate (2019). He has appeared in a number of other successful films, such as Commando (1985), The Running Man (1987), Predator (1987), Twins (1988), Total Recall (1990), Kindergarten Cop (1990), and True Lies (1994).
Cary-Hiroyuki Tagawa
Cary-Hiroyuki Tagawa is a Japanese-American-Russian actor, film producer, martial artist, stuntman and sports physiologist.
His roles have also included the eunuch Chang in The Last Emperor, Earth Alliance security officer Morishi in Babylon 5 ("Convictions"), the voice of Sin Tzu for the video game Batman: Rise of Sin Tzu, the evil soul-stealing sorcerer Shang Tsung in a film adaptation of the video game Mortal Kombat (a role he would reprise 18 years later for Mortal Kombat: Legacy and 24 years later in Mortal Kombat 11) and the evil mastermind Heihachi Mishima in the film adaptation of Tekken. He portrays Nobusuke Tagomi in The Man in the High Castle.
Jet Li
Li Lianjie better known by his stage name Jet Li, is a Chinese film actor, film producer, martial artist, and retired Wushu champion who was born in Beijing. He is a naturalized Singaporean citizen.
After three years of training with acclaimed Wushu teacher Wu Bin, Li won his first national championship for the Beijing Wushu Team. After retiring from competitive Wushu at age 19, he went on to win great acclaim in China as an actor, making his debut with the film Shaolin Temple (1982). He went on to star in many critically acclaimed martial arts epic films, most notably as the lead in Zhang Yimou's Hero (2002), Fist of Legend (1994), and the first three films in the Once Upon a Time in China series (1991–1993), in which he portrayed folk hero Wong Fei-hung.
Li's first role in a non-Chinese film was as a villain in Lethal Weapon 4 (1998), and his first leading role in a Hollywood film was as Han Sing in Romeo Must Die (2000). He has gone on to star in many international action films, including in French cinema with the Luc Besson-produced films Kiss of the Dragon (2001) and Unleashed (2005). He co-starred in The One (2001) and War (2007) with Jason Statham, The Forbidden Kingdom (2008) with Jackie Chan, all three of The Expendables films with Sylvester Stallone, and as the title character villain in The Mummy: Tomb of the Dragon Emperor (2008).
Jackie Chan
Chan Kong-sang known professionally as Jackie Chan, is a Hong Konger martial artist, actor, film director, producer, stuntman, and singer. He is known in the cinematic world for his acrobatic fighting style, comic timing, use of improvised weapons, and innovative stunts, which he typically performs himself. He has trained in Wushu or Kung Fu and Hapkido,[5][6] and has been acting since the 1960s, appearing in over 150 films.
Chan is one of the most recognisable and influential cinematic personalities in the world, gaining a widespread following in both the Eastern and Western hemispheres, and has received stars on the Hong Kong Avenue of Stars and the Hollywood Walk of Fame. He has been referenced in various pop songs, cartoons, and video games. He is an operatically trained vocalist and is also a Cantopop and Mandopop star, having released a number of albums and sung many of the theme songs for the films in which he has starred. He is also a globally known philanthropist and has been named as one of the top 10 most charitable celebrities by Forbes magazine. In 2004, film scholar Andrew Willis stated that Chan was "perhaps" the "most recognised star in the world". In 2015, Forbes estimated his net worth to be $350 million, and as of 2016, he was the second-highest paid actor in the world.
Dolph Ludgren
Hans Lundgren better known as Dolph Lundgren is a Swedish actor, filmmaker, martial artist, and chemical engineer. Lundgren's breakthrough came in 1985, when he starred in Rocky IV as the imposing Soviet Union boxer Ivan Drago. Since then, he has starred in more than 40 films, almost all of them in the action genre.
After appearing in Rocky IV, Lundgren portrayed He-Man in the 1987 science fantasy film Masters of the Universe, Lt. Rachenko in Red Scorpion (1988) and Frank Castle in the 1989 film The Punisher. Throughout the 1990s he appeared in films such as I Come in Peace (1990), Cover-Up (1991), Showdown in Little Tokyo (1991), Universal Soldier film series (1992, 2009, 2012), Joshua Tree (1993), Pentathlon (1994), Men of War (1994), Johnny Mnemonic (1995), The Shooter (1995), Silent Trigger (1996), The Peacekeeper (1997), and Blackjack (1998). In 2004 he directed his first film, The Defender, and subsequently directed The Mechanik (2005), Missionary Man (2007), Command Performance (2009), and Icarus (2010), also starring in all of them.
Donnie Yen
Donnie Yen Ji-dan is a Hong Kong actor, martial artist, film director, producer, action choreographer, stuntman and multiple-time world wushu tournament champion.
Yen is one of Hong Kong's top action stars. Yen has displayed skill in an array of martial arts, being well-versed in Tai Chi, Boxing, Kickboxing, Jeet Kune Do, Hapkido, Taekwondo, Karate, Muay Thai, Wrestling, Brazilian Jiu-Jitsu, Judo, Wing Chun, and Wushu. One of the most popular film stars in Asia of the early 2000s.
Yen's first step into the film industry was in 1984 when he landed his first starring role in the 1984 film Drunken Tai Chi.
After filming Drunken Tai Chi and Tiger Cage (1988), Yen made his breakthrough role as General Nap-lan in Once Upon a Time in China II (1992), which included a fight scene between his character and Wong Fei-hung (played by Jet Li). Yen had a starring role in the film Iron Monkey in 1993. Yen and Li appeared together again in the 2002 film, Hero, where Yen played a spear (or qiang) fighter who fought with Li's character, an unnamed swordsman. The film was nominated for Best Foreign Language Film at the 2003 Academy Awards.
Yen's other movies includes, Legend of the Wolf, Highlander: Endgame, Blade II, Once Upon a Time in China II , etc.
Dwayne Johnson
Dwayne Douglas Johnson also known by his ring name The Rock, is an American-Canadian actor, producer, and former professional wrestler. Johnson was a professional wrestler for the World Wrestling Federation (WWF, now WWE) for eight years prior to pursuing an acting career. His films have grossed over $3.5 billion in North America and over $10.5 billion worldwide, making Johnson one of the highest-grossing box-office stars of all time
Johnson entered Hollywood and the film industry, becoming a star initially through his wrestling popularity and noted work ethic. Over his acting career, he has become one of the highest paid and most successful actors in Hollywood. He began his acting career on television while wrestling. In his first television acting job, in 1999, he played his own father in an episode of That '70s Show called "That Wrestling Show". Nearly a year later, he appeared in the Star Trek: Voyager episode "Tsunkatse" as an alien wrestler who fought popular character Seven of Nine. While Johnson was away from WWE, the company continued to sell "The Rock" merchandise, and he continued to be featured prominently in the opening montages of their television shows.
Johnson began his theatrical career in The Mummy Returns (2001) The Scorpion King (2002) the action-comedy The Rundown (2003) and the Walking Tall (2004). He played a supporting role in Be Cool (2005) and was the primary antagonist in Doom (2005). Roles in Gridiron Gang (2006) Reno 911!: Miami (2007) Southland Tales (2007). He played a cocky famous American football player in The Game Plan (2007) and Agent 23 in Get Smart (2008). presented the Academy Award for Best Visual Effects at the 80th Academy Awards.
Mark Decascos
Mark Alan Dacascos is an American actor and martial artist. He has won numerous karate and kung fu championships between the ages of 7 and 18. He is best known for his roles as Mani in Brotherhood of the Wolf, Toby Wong in Drive, Ling in Cradle 2 the Grave, the titular role in Crying Freeman and Zero in John Wick: Chapter 3 – Parabellum.
Important!!!
---
Want to learn how to make at least 40k weekly on News9naija?
Click here 
---
DISCLAIMER: Opinion articles and guest posts are solely the responsibility of the author(s) and do not necessarily reflect the views of the publishers of News9naija! Would you like to be receiving ALL News9naija updates  'On The Go'?  Join our  Telegram Channel here
---
Send eyewitness accounts/ reports/ articles to [email protected]
Click Here To Post Your Free Adverts